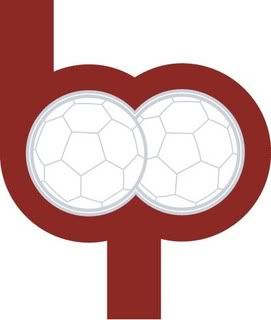 If you watched the 1st leg spanking that DC United handed out to CD Olimpia last week, you may have heard commentator Paul

Caliguiri

mention that

MLS

journeyman Brian

Dunseth

has a clothing line. After hearing this I decided to do a little investigating and came across Bumpy Pitch clothing, the brainchild of

Dunseth

and his former Olympic teammate Ben Hooper (who is also behind the essential Evenison.com). It's soccer-inspired clothing for guys & girls and it's brilliant.

After ogling the casual, yet fresh-to-death gear on offer at BumpyPitch.com, I gave Ben a shout to discuss style,

Dunseth

and non-chaffing underwear. The results are as follows...


The Offside Rules: Hey Ben, how are ya?
Ben Hooper: Good man, thanks for reaching out.

TOR: So how long have you guys been in business? I'm just hearing about you.


BH

: Officially a couple years, mostly online business ...its been growing little by little. We think its pretty important for soccer fans, players, etc to have a brand like this that hopefully they can identify with.
TOR: The concept is so exciting to me because I feel that the culture of soccer in America is usually seen as anything but cool from the outside and Bumpy Pitch is

definitely

cool i.e. there are no minivans, or

Orange

slices to be seen.
BH

: Right...that is exactly what this was about.
TOR: Do you think there is a "soccer style" here in America?
BH

: I think there is a soccer style here, but i think people rep it in different ways. I am mostly talking about off the field stuff here...but if you go to a youth tournament you see these kids that are all very hip. The clothes they wear are hip, and they have their own style and swagger about it...much of which comes from soccer...but they are wearing brands from other lifestyles. But why should soccer kids wear skateboarding brands, or basketball

stuff

or whatever. They should have a soccer brand they can identify with

and thats

what we want

BP

to be.
TOR: True there is a

diversity

. I grew up in Texas and look there is way different from what the cats here in NYC are rocking.
BH

: Oh Definitely. I just hate seeing soccer players wearing whack gear! Makes the sport look a little uncool.
TOR: Very true. One of the things that makes

BP

so fresh is that it looks

completely

inconspicuous. i.e. it blends in with what is in fashion right now. It doesn't scream "soccer" but is soccer to the core
BH

: That was part of the whole idea. Its definitely all about soccer and that is the core of the brand...but it cant be too obvious
TOR: So what is the design process like?


BH

: Initially it was very simple and that is reflected in what we have done so far...very simple designs, the logo etc...but I'm inspired by

a lot

; obviously soccer is the first...how it is perceived around the world and so on. But i just look for things that inspire me and in my life much of it has a connection on some level to the sport.

TOR: What's Brian role at

BP

? How involved is he?


BH

: Brian has been involved on a lot of levels, but he has focused mostly on spreading the word, especially with professional players, guys in

MLS

..stuff like that he has gotten a lot of pros wearing and loving the brand which has been great. And he's a stylish cat.
TOR: Can we call him the

Helmut

Lang of

MLS

?


BH

: Ha! Maybe not that stylish!
TOR: Yeah, but who is really though? Did I hear correctly that you could get

BP

gear at

RSL

matches?


BH

: We did some stuff up at

RSL

when Brian was playing with them. It went over really well and we sold a bunch of stuff which was cool...we actually ended up doing an autograph session right at our booth and people just flocked over. Such great way to expose the brand to some new people and

that's

the key...just getting people to know about the brand.
TOR: Branding is everything. So where can the savvy souls reading this pick up

BP

gear?


BH

: We have been in a few stores and there is always stuff available at B
umpyPitch

.com
. We'll have some new stuff soon though...some incredible vintage stuff is on its way. Definitely some cool gear for soccer people to rep the sport in
TOR: Excellent, keep us posted. Last question. Will there be a line of non-chaffing boxer-briefs? I know

a lot

of guys are crying out for those but don't know where to turn.
BH

: Ha! I

don't

think we will be doing anything like that..although i wish you luck in your quest to find them.
TOR: Shit. I guess I'll have to keep

lookin

. Thanks Ben.